Accommodation/Medical Condition
The Housing Department accommodates tenants with physical disabilities through upgrades to your home (e.g. installing grab bars, door opener, and smoke detector with strobe light alarm) when necessary. In some cases, moving to a more suitable home with appropriate accommodations may be an option.
The Housing Department may need information from your doctor or occupational therapist before making changes. A completed Verification of Disability or Medical Condition Form may be required to gather information necessary for your accommodation.
This form is available by contacting the Housing Department, your Case Manager or by following the link below.
Form:
Verification of Disability or Medical Condition Form
Alterations/Decorating
If you decorate, keep in mind that your unit must be restored to the move-in condition when you move out. You are responsible for any costs associated with this.
You may install decorative items, such as pictures or window coverings. For all other changes you must submit a Request for Alterations form, and wait for written approval from the Housing Department before making any changes to your unit.
Refer to your Tenant Handbook for further details.
This form is available by contacting the Housing Department, your Case Manager or by following the link below.
Forms:
Request for Alterations - Online Form
Request for Alternations - Printable PDF
Air Conditioners
A Request to Install an Air Conditioner must be submitted and approved in writing before installing an air conditioner in the rental unit.
Air conditioners may not exceed 6,000 BTUs, and a seasonal fee will be charged to your rental account for May to September.
You must comply with all conditions as outlined in the Tenant Obligations and Installation Criteria.
Form:
Request to Install an Air Conditioner - Printable PDF form
Air Conditioners - Tenant Obligations and Installation Criteria
Tenant Obligations
All tenants must receive writtenapproval from the Housing Department prior to installing an air conditioner for the first time in the rental unit.
Tenants must submit a completed Request to Install Air Conditioner and comply with installation criteria contained in this document.
Air conditioners installed in the rental unit may not exceed 6000 BTUs.
The air conditioning season is from May 1st to October 15th only.
An air conditioner charge of $50 will be charged for each air conditioner installed in the rental unit on May 1st of each year. This includes any installations not approved prior to installation and this charge is not refundable.
Tenants approved for installation of an air conditioner will automatically be charged $50 each year unless the tenant provides written notice prior to April 30th that the air conditioner is no longer required.
Air conditioners cannot be permanently installed and must be removed not later than October 15th.
Installation Criteria
Air conditioners must be installed in accordance with the Installation Criteria provided by the Housing Department and the unit restored to its original condition upon removal of the air conditioner.
Crank and hopper style windows are not designed to accommodate window air conditioners and therefore an air conditioner shall not be installed in these types of windows.
Installation of the air conditioner shall be in accordance with the manufacturer's instructions and using the hardware provided with the air conditioner unit.
Retaining brackets must be attached to the top of a/c unit to rest against the window frame; angle brackets must be securely attached to the wall/window ledge to support the air conditioner from below. Brackets must be adequate to fully support the air conditioning unit.
The air conditioner must be installed in such a way as to allow condensate to drain away from the building.
Pressure treated lumber must be used for any packing required. Attach steel support brackets to wood packing in such a way as to ensure that packing does not damage the siding.
Expandable plastic extensions may be secured with screws in the top and bottom of the window channel.

Note: If window sill is not deep enough to accommodate the A/C unit, mount the unit on a piece of ¾" plywood painted white and follow the installation instructions above.
All air conditioner installations are subject to inspection by Housing Department staff to ensure compliance with installation criteria.
Tenant is responsible for any damage caused to the unit in accordance with the Lease Agreement, whether that damage was accidental or on purpose.
If the air conditioner is not removed by October 15th each year, the Housing Department may arrange to have it removed and all costs incurred will be charged back to the tenant.
Household Pests
Unfortunately, bed bugs cockroaches, mice and other pests sometimes get into buildings. Contact maintenance immediately, if you discover ants, fleas, cockroaches, bed bugs, mice, rats, bats, or any other wildlife or pests in your unit or building.
The Housing Department will:
provide a quick response time for inspections and treatments;
work with you, contractors and partners to resolve pest issues; and
provide you with information and supplies to prepare your home for treatment.
To prevent bed bugs and other pests:
do not bring used mattresses, bedding or upholstered furniture into your unit;
keep food and garbage in sealed containers;
trim grass and shrubs near your home;
keep basement drains covered.
Bed Bug Information Sheet
What are bed bugs?
Bed bugs are small insects that feed on the blood of humans and animals. They hide in mattresses, box springs and other upholstered furniture, and come out to feed at night.
What do bed bugs look like?
Bed bugs ar
e brown to reddish brown, flat and wingless, and about the size of an apple seed (5-7 millimetres in length). Bed bugs do not fly, but they can move quickly over floors, walls, and ceilings. Bed bug eggs are white and look like small grains of rice.
What do bed bug bites look like?
Bed bug bites can be anywhere on the skin, but are usually found on the face, neck, arms, hands, legs and backs. Bed bugs bite when people are asleep, and generally, people do not know when they are being bitten. Most bites are painless at first, but later turn into itchy welts. To confirm bed bug bites, you must find and identify the bugs.
Can bed bugs spread diseases?
Bed bugs do not spread diseases. To prevent infection from the bites, keep the bites clean and try not to scratch the bites. Treat the bites with antiseptic creams or lotions and talk to your health care professional for advice. Some people may have an allergic reaction to bed bug bites.
How do bed bugs spread?
They hitchhike on second-hand furniture brought into your unit.
They can hide in suitcases/bags from hotel stays and attach to clothing from visits to other places.
They may travel from another unit in the building that has a bed bug infestation.
How can I tell if I have bed bugs?
If you wake up with itchy areas you didn't have when you went to bed, check carefully for signs of bed bugs. Signs of bed bugs include blood stains on your sheets or pillowcases, dark or rusty spots on mattresses, bedding, and walls and an offensive, musty odour (the bugs' scent glands). If you suspect an infestation, call the Maintenance telephone line immediately at 613-342-3840 ext. 2118.
What happens if I get bed bugs?
Bed bugs must be dealt with by a professional pest control company. Do not try to treat bed bugs yourself (over-the-counter bug sprays cause bed bugs to spread) and do not throw away any mattresses or furniture that may be infested. Extermination of the bed bugs is quicker and more likely, the sooner an infestation is treated. Report suspected bed bugs immediately.
Who pays for the cost of treatment?
Landlords are responsible for the cost of pest control treatments. However, if the tenant fails to properly prepare the unit for treatment in accordance with the Pre-Treatment Checklist and the unit is re-infested with bed bugs, it may result in a chargeback to the tenant.
Can I be evicted because I have bed bugs?
Your tenancy is generally not at risk if you have bed bugs. However, you must report the bed bugs promptly and cooperate with the landlord by preparing your unit for bed bug treatment and allowing the pest control operator to treat your unit. Landlords can apply to the Landlord and Tenant Board for an eviction order if a tenant seriously and unreasonably interferes with the landlord's efforts to deal with the bed bugs.
How can I prevent bed bugs?
Prevention is key to avoid an infestation of bed bugs. To lessen the chances of getting bed bugs, follow these steps:
Do not bring used items such as mattresses, furniture and stuffed animals into your unit without carefully checking them. Inspect all seams and crevices with a flashlight and scrape with a hard piece of plastic to chase any bed bugs out of hiding.
Inspect all second hand clothing and other items before bringing them into your home.
Never take a mattress, sofa or chair from a curb.
Get rid of clutter.
Vacuum often, including under and behind beds.
Seal mattresses and box springs with "bed bug proof" covers and put duct tape over the zippers of covers.
Make your bed an "island". Install double-sided carpet tape on bed legs or coat the legs with petroleum jelly (Vaseline). Alternatively, place legs in small tins containing baby powder to trap bed bugs traveling up or down the bed legs. Make sure that your furniture is not touching the walls, and bedding does not touch the floor.
Check laundry machines before you put your laundry in; fold your laundry in your apartment, not in the common laundry room.
Inspect your bed and furniture regularly. If you see bed bugs, brown/rusty stains on your sheets, mattress, box spring or furniture contact Maintenance promptly.
Do not visit a unit that is currently being treated for bed bugs.
Notify the building Custodian or the Maintenance Support Worker if any mattress or furniture is left in apartment hallways or common areas.
Use white or light-coloured sheets so it's easier to spot bed bugs.
Maintenance Support
613-342-3840 ext. 2118 or
Toll Free: 1-800-267-8146 ext. 2118
Keys and FOBs
Each tenant is provided one key and one FOB at the time of move-in. FOBs are used in apartment buildings only. These are used to electronically unlock the buildings front door, and the lift door in some buildings. You are responsible for the key FOB. Keep it in a safe place. Do not lend or give it to another person.
A Request for Additional Key/FOB form must be completed and submitted if an extra key/FOB is needed.
If your keys/FOB are lost or stolen, you will be charged for changing the locks (see Tenant Charges section of your Tenant Handbook).
This form is available by contacting the Housing Department, your Case Manager or by following the link below.
Form:
Request for Additional Key/FOB - Printable PDF Form
Smoke-Free Policy
Effective September 2012 all leases signed have included a smoke-free clause. Smoking includes smoking a cigar, cigarette, other tobacco, herbal or similar products, cannabis, or vaporizers (e-cigarettes), hookah, shisha, and is prohibited in the leased premises, including balconies and patios.
Cannabis Policy – Growing cannabis (e.g. marijuana, pot) plants indoors or outdoors is not allowed in public housing units and on public housing property.
Smoke-Free Questions and Answers
General Questions
What is considered "smoking" in the smoke-free policy?
Inhaling, exhaling, breathing, or carrying any lit cigar, cigarette, pipe, vaporizer (i.e. e-cigarette), hookah, shisha, or other tobacco, marijuana, herbal, or similar product in any manner, or in any form.
If vaping doesn't produce smoke, why is vaping banned under the "smoke-free" policy?
A 2016 report from the World Health Organization (WHO) concluded that second-hand aerosols from e-cigarettes are a new air contamination source for hazardous particulate matter. The levels of some metals in second-hand aerosols are higher than second-hand smoke, and can cause cancer. Toxins from second-hand aerosols pose an increased risk to health; especially to those with pre-existing respiratory conditions.
Do tenants not have a right to do as they wish in their own homes, such as smoke?
There is no such thing as a right to smoke under the Canadian Charter of Human Rights and Freedoms, or under the Ontario Human Rights Code. While a tenant who smokes chooses to accept the known risks associated with smoking, he or she doesn't have the right to require others in the building to share those risks.
I did not sign a new lease with a smoke-free clause; how can you tell me I cannot smoke in my home anymore?
Tenants "grandfathered" under the previous smoke-free policy are being asked to sign a smoke-free addendum so that all units are smoke-free by the target date of February 1, 2019.
When do the changes to the Smoke-Free Policy take effect?
The change takes place effective February 1, 2019, and applies to all units owned by the United Counties of Leeds and Grenville public housing.
If I can't smoke in my unit anymore, where can I smoke?
Smoking is allowed outside of the designated "smoke-free zones", which is 5 metres (16 feet) from the windows, doors, and air intakes of any single, duplex, or townhouse dwelling; 9 metres (30 feet) of any apartment building, including building entrances and exits; and 20 metres (66 feet) of public housing playgrounds. Picnic tables are placed at most buildings outside of the smoke-free zones to mark the distance at multi-residential complexes.
What happens if I smoke inside my unit?
A tenant who does not abide by the smoke-free rules could be evicted on the grounds of "interfering with the reasonable enjoyment of others". Housing staff work with tenants on issues which include when a tenant is interfering with the reasonable enjoyment of others. If warranted, an N5 form Notice to Terminate a Tenancy Early can be issued.
What if my neighbour is smoking inside of the "smoke-free zone" and it is bothering me?
Report the problem behaviour to your Case Manager who will address it. You will be requested to monitor the situation by recording a "Smoking Complaint Log" over a period of time, and attend the Landlord and Tenant Tribunal as a witness if the problem behaviour persists.
Can Housing use air filters/purifiers, or ventilation to clean the air of second-hand smoke instead of banning smoking?
Air filters, purifiers and ventilation systems cannot eliminate second-hand smoke, nor can they address the health concerns of exposure to second-hand smoke. Some of the smoke and larger particles from the air may be removed, but they will not remove the smaller particles or gases found in second-hand smoke.
How dangerous is second-hand smoke?
Each year in Canada breathing second-hand smoke cause's more than 1,000 deaths in non-smokers from lung cancer and heart disease, and keeps thousands more from leading normal, healthy lives. The US Surgeon General's Report warns that no amount of second-hand exposure is safe. Second-hand smoke increases risk of heart disease and lung cancer, causes acute respiratory problems, and exposure to second-hand smoke harms children.
I am not physically able to go outside and smoke, especially in bad weather. Can I still smoke in my unit?
While the landlord does have a duty to accommodate a tenant's disability, exposing others unnecessarily to second-hand smoke is considered to be "undue hardship". Contact your medical practitioner and Case Manager to discuss alternatives to smoking in your unit.
Is there support for smokers who want to quit?
There's support for anyone who wants to quit smoking by calling the Lanark, Leeds and Grenville Health Unit at 613-345-5685, or the Smoker's Helpline at 1-877-513-5333. Or, contact Lanark, Leeds and Grenville Addictions and Mental Health at 1-866-499-8445 for help to stop smoking marijuana.
Marijuana Related Questions
Is second-hand smoke from marijuana dangerous?
Second-hand smoke from marijuana has many of the same chemicals as smoke from tobacco, including those that cause lung cancer. It can also cause lung irritation, asthma attacks, and make respiratory infections more likely.
If I can't smoke marijuana in my unit, then where can I smoke it?
Smoking marijuana on public housing property is allowed where smoking is allowed, and according to provincial laws. Please note that under Provincial Law it is not allowed to be smoked in public places (i.e. public sidewalks, parks, building common areas) or near children's playgrounds.
Why is growing marijuana plants banned in public housing units?
Growing high humidity plants indoors such as marijuana or tomatoes will continue to be prohibited (not allowed). Growing these types of plants inside a residence poses safety hazards, and could result in damage to buildings and loss of insurance. Optimal conditions for growing certain types of plants require warm temperatures, extensive lighting and high humidity, which can cause overloaded electricity systems and structural damage from mould that can thrive in the humidity created by the plants.
Growing marijuana plants outdoors on public housing property is banned under lease rules. Growing such plants outdoors places the tenant at high risk for theft, and if protective traps are installed to prevent theft, they pose a health and safety risk to Housing staff, contractors and emergency personnel.
I have a prescription for medical marijuana; can I grow it and smoke it inside of my unit?
While the landlord does have a duty to accommodate a tenant's disability, exposing others unnecessarily to second-hand smoke from smoking marijuana, and to mould from growing marijuana is considered to be "undue hardship". Contact your medical practitioner and Case Manager to discuss alternatives to growing and smoking medical marijuana in your unit. Smoking medical marijuana is restricted to the same rules as recreational marijuana.
Smoke-Free Addendum/Complaint Log
Smoke Free Addendum
Smoke-Free Complaint Log - Printable PDF form
Tenant Insurance
The Housing Department is not responsible for your personal property and we strongly recommend that you purchase tenant insurance to protect your belongings from loss. You may also be held responsible for damages to our property if the damage is the result of carelessness or a wilful act.
Low-cost insurance from the Housing Services Corporation is available for housing tenants. Monthly premiums may cost as low as $16 to $21 per month. For further information or to apply, contact 1-866-940-5111.
Ontario Works (OW) and Ontario Disability Support Program (ODSP) recipients may be able to claim insurance premiums as shelter costs. Please contact your OW/ODSP Case Manager to discuss.
Unit Transfers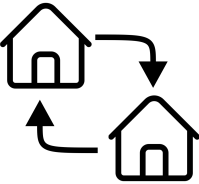 Once you have accepted a unit, you are removed from the Centralized Waiting List. If you need to move for medical reasons you must submit a Request for Internal Transfer and a Verification of Disability or Medical Condition completed by a qualified health professional. You must meet all conditions listed in the Housing Department's Transfer Policy before being approved for a transfer. A transfer fee of $250.00 must be paid before you transfer.
This form is available by contacting the Housing Department, your Case Manager or by following the link below.
Forms:
Internal Transfer Request - Printable PDF form
Verification of Disability or Medical Condition - Printable PDF form
Contact Us