Living Here
At Maple View Lodge we have a full range of activities and entertainment that are offered each month. All activities are under the supervision of the Recreation Team and Resident Services Supervisor. A calendar of events is posted on the bulletin boards throughout the resident home areas. Everyone is welcome to attend including family and friends.
Maple View Lodge provides a full range of support and services for the Home.
All Long-Term Care Homes are governed by Fixing Long-Term Care Homes Act 2021.
Administration
The Administration Office is located at the entrance of the Home and is open from 8:00 a.m. to 4:00 p.m. Monday to Friday. Administrative Staff are available to assist you in a variety of ways including access to information, personal support monies for residents, mailing letters, delivering daily mail and newspapers and other administrative tasks. After hours, the Registered Charge Nurse is available to assist you.
Dietary
The Dietary department provides safe, high quality, nutritious meals to residents. Three meals and three snacks are served daily. To ensure meal variation, two choices of entrée are offered as a main meal followed by dessert.
Special and therapeutic diets and nutritional dietary supplements are provided as recommended by the Dietitian.
It is important to understand that staff monitors each Resident's food intake as part of their care plan and to encourage health and well-being. Our Registered Dietitian devotes time to each resident to ensure special nutritional needs are met in accordance with Ministry standards.
Meal Times
Breakfast: 8:15 a.m.
Lunch: 12:00 p.m.
Dinner: 5:00 p.m.
We encourage visitors and family members may purchase a meal ticket and dine with their loved ones. Tickets are available at the administration office. 24 hours' notice is required for guests.
It is acceptable that a visitor may feed the Resident food prepared or purchased outside the Home, however we recommend that nursing staff be advised as some Residents may have food restrictions or special needs (i.e. diabetic diet, choking risk, swallowing difficulties, modified textures, etc.). Outside foods cannot be stored in the Home's refrigerator for health and safety concerns, nor can it be permitted in the main dining room due to allergies of others.
Housekeeping
Housekeeping services are provided daily. They are responsible for keeping bathrooms, sitting rooms, dining areas, all rooms and hallways clean and safe. Residents, if able, are encouraged to arrange their belongings and keep their own room tidy.
Laundry
When a resident moves in to Maple View Lodge, staff will label all items with the resident's name. All machine washable personal clothing is laundered by staff at the Home and returned within 48 hours. Clothing requiring dry cleaning, hand wash, wash cold, hang to dry, lay flat to dry, wool, suede, and silk is not recommended. Other facility linens are contracted to an outside linen service. Staff is not responsible for mending clothing. MVL is not responsible for lost or damaged clothing. If you do not want your loved one's clothes laundered at the Home, please notify staff, supply an in-room hamper for soiled laundry and ensure sufficient clothes are available to the Resident at all times. Click here for a list of suggested clothing.
Environmental Services
The Environmental Services staff ensures that the building and grounds are cared for in accordance with standards set out by the Health and Safety Committee, the Ministry of Health and Long - Term Care and all other applicable legislation. Staff complete minor repairs and ensure upkeep of equipment as required. Staff will hang your loved ones paintings etc. We ask that you do not hang pictures yourself, and limit the number of wall hangings.
All electronic/electrical items brought to the Home for use by Residents must be inspected by maintenance staff before it is used.
Nursing and Personal Care Including a Nurse Practitioner
Maple View Lodge has a team of Registered Nurses, Registered Practical Nurses and Personal Support Workers who provide nursing and personal care 24 hours per day, seven days per week. Nursing care is provided to assist with the physical and emotional needs of our Residents and their families by integrating a holistic approach to care and support.
Physiotherapy
Physiotherapy services are provided in-house by a contracted service provider. Physiotherapy promotes mobility according to a resident's assessed abilities, wishes and preferences to enable the resident to do as much for him/herself as possible and provide an increased sense of wellbeing and better overall quality of life for the resident.
Spiritual Care
The Ministerial Association of Athens coordinates and delivers non-denominational weekly church services at Maple View Lodge for the residents. Families and friends are encouraged to attend. Communion to both Protestant and Catholic Residents are offered on a regular basis. Weekly visits offering counseling and providing emotional and spiritual support are provided. Staff welcomes and encourages visits by a Resident's personal spiritual advisor.
Hairdressing/Barber
There is a hairdresser/barber on the premises two (2) days per week available at a reasonable cost to the resident. No money is exchanged at the time of the service. Charges are added to the Resident's accommodation invoice at the end of the month.
Nursing will attempt to accommodate residents and families who wish to have their hair styled for special occasions whenever possible. We ask that you provide sufficient notice (i.e. one week) in advance of special appointments.
Recreational Services Programming
Resident Services philosophy is to encourage our Residents to maintain their unique person-centered identities and lifestyles to ensure a future of dignity and compassion. Staff strives to provide a comprehensive program designed to meet the social, spiritual, physical, recreational and emotional needs of our Residents. Under the direction and supervision of the Resident Services Supervisor, many programs are offered on a daily, weekly, monthly and seasonal basis aimed to promote and fulfill the Residents' intellectual and cultural needs.

A few of our weekly programs include Bingo, Knitting Club, Euchre, Various Music Programs, Pet Therapy, Gardening and Pub. We have regular Crafts, Residents Council, Community Outings, Baking, Exercises, and Outdoor Walks. Our programs are delivered through one-to-one sessions as well as small and large groups. We are very grateful to have many volunteers who work closely with us to assist and facilitate many of these recreation programs, one-to-one visits and special events.

On each unit, you will find our Recreation Boards. These boards show what is going on each day of the week. We also circulate the monthly recreation calendars to each resident room and e-mailed or mailed to families. Recreation calendars are also able to be picked up in at the Home.

Behavioural Support Ontario (BSO)

Maple View Lodge has a BSO Team

The BSO team consists of Recreation Programmer, Resident Services Supervisor, Recreation Aides, RN, RPN, PSW's, Housekeeping, and Co-Director of Care.

What is BSO?

BSO stands for Behavioural Supports Ontario.

The government has provided funding in Lanark Leeds and Grenville for select Long-Term Care (LTC) homes to have an in-house BSO team. BSO supports residents, family and staff in the LTC homes with non-pharmacological intervention to responsive expressions.

What is a responsive expression?

Responsive expressions have been identified as the following:

Agitation, wandering, sexual behaviour, sundowning, repetition, aggression, hallucinations and paranoia, "I want to go home".

What does BSO do?

Provide information to families upon a new resident's arrival.

Monitor and support a resident during transition into home.

Provide support to staff, resident and family through education and information sharing.

The BSO team meets weekly to collaboratively develop strategies for non-pharmacological interventions and person-centred care as well as consult with Psychogeriatric Resource Consultant, Mobile Response Team and Geriatric Psychiatry when needed.

A BSO team member will be present during the care conferences of residents who have had interaction with the BSO team.

Example of a supportive intervention to a responsive behaviour:

Expression: "I want to go home"

Meet the resident where they are; How do you feel coming home after a long day? For most of us, it's a sense of relief or contentment. You are in a safe place and surrounded by people and things that put you at ease. When a family member says "I want to go home", they want these same feelings.

How to help:

Consider possible causes:
Fatigue
Over-stimulation
Asking the person to complete an unfamiliar task
Strategies:
Watch your tone of voice and body language. Speak calmly and use short sentences.
The home a person speaks of may be where they grew up. Use this to start a conversation: "Where was home? Did you grow up in the city or the country? What was your favourite thing to do when you were there?" Even if you know the answers, still ask.
Acknowledge their anxiety.
Provide reassurance.
Don't: Explain to them that this is their home now and they have nowhere else to go.
Do: Acknowledge their feelings. "It must be hard to want to go home. Can you tell me about your home? Where did you live? What did you like doing there as a kid? Do you have any siblings?" Reminisce even if you know all the answers; you want them to feel safe and at ease as if they were at home. You might even hear a new story!
Our Community Resources and Supports include:
Psychogeriatric Resource Consultant, Providence Care
Mobile Response Team Nurse, Providence Care
Geriatric Psychiatry Nurse, Royal Ottawa Hospital
For more information visit the BSO Website:
Restorative Care
The Restorative Care Program is a mixture of physical rehabilitation and sensory cognitive activities. The program enhances the Recreation Programs with mobility in walking and fine motor skills.
Volunteer Services
Volunteering is the most fundamental act of citizenship and philanthropy in our society. It is offering time, energy and skills of one's own free will. It is an extension of being a good neighbour and choosing to help others.
Maple View Lodge is thankful for the volunteers who are instrumental to the Home and who can be seen supporting residents through a wide variety of tasks such as Recreational Programming, Fundraising, Meals in the Dining Room, Palliative Care, The Tuck shop, Pet Therapy, Spiritual Programs, Special Events and much more. Maple View Lodge is very fortunate to have the Volunteer Auxiliary (see next section) at the Home. Maple View Lodge honours our volunteers with an annual Volunteer Appreciation Luncheon.
Maple View Lodge is always looking for more volunteers. Legislation requires that a police check is required for all volunteers. If interested in volunteering, complete the application form and mail to the attention of The Resident Services Supervisor, Maple View Lodge or email to: Brittany.knowles@uclg.on.ca
Maple View Lodge Auxiliary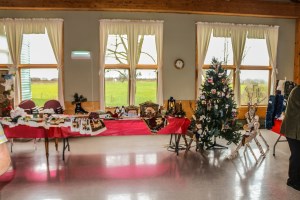 The mission of the Auxiliary is to provide and assist with activities and purchase items that prove beneficial to the life of residents at Maple View Lodge. Some of the activities auxiliary members have provided are decorating the Home for the holiday season, and the Tuck Shop area, where the residents can purchase items of interest as well as handmade items. The Auxiliary purchases Christmas gifts for all residents, bingo prizes, welcome baskets for new residents, fund bus trips and treats, diners club meals, music programs and more. Maple View Lodge is famous for their annual Christmas Tea and Bazaar, now the bazaar is Christmas in September, held in the Gazebo area, with a variety of baked goods, crafts, raffles and second-hand items for purchase. All activities are designed to benefit the quality of life for the residents whether through programs or purchased items.
The Maple View Lodge Auxiliary created the Restorative Garden and Gazebo Area
through many years of fund raising. The Gazebo is 18 ft. x 18 ft., with windows opening from the top or bottom, walker and wheelchair accessible to provide residents and their families a safe place to visit, to enjoy a family outing as well as activities organized by the staff of Maple View Lodge
Maple View Lodge Auxiliary encourages and welcomes new members.
Family Council
Family Council is comprised of families and friends of current Residents who meet for the purpose of welcoming families and friends of a new Resident to the Home and sharing ideas. Family Council assists in facilitating and enhancing communication between families, staff and Residents and to provide mutual support to family and friends. Family Council advocates on behalf of all Residents and families and provides discussion forums for relevant issues. The Family Council is committed to monitoring and increasing the well-being of all residents.
Family Council Brochure
Resident Council
All Residents of Maple View Lodge may become members of Resident Council. If the resident is unable to understand or participate in the meetings or if the Resident wishes, a family member is invited to attend as an advocate in their place. The meetings are held on the first Monday of every month (second Monday in the event the first Monday is a statutory holiday). Dates, times and locations are posted on the bulletin boards on each Resident Home Area and in the monthly Recreation Calendar.
Those attending the meetings are brought up to date on events in the Home and are informed of any changes that may be up coming. Managers from each department attend on invitation and provide updates as well.
Residents are given the opportunity to formally express their wishes and concerns. Any suggestions or complaints are printed in the minutes of the meeting and directed to the appropriate departments for action and follow-up. A response to all suggestions or complaints will be given to the Residents within ten (10) business days, as per Legislation.
Contact Us